Protecting your personal data and your privacy is our priority.

This Privacy Policy informs you on the way WIFIRST collects and uses Personal data that you may provide while using its services or on its website www.wifirst.com.

Specific provisions may apply for specific services or with regard to some users, which will be brought to the attention of the user when accessing or using the services.
1. General
WIFIRST, a French, registered at the Corporate and Trade Register of Paris under number 441 757 614, whose registered office is located at 26, rue de Berri – 75008 Paris, France, is the data controller of personal data processed when using WIFIRST services or visiting its website www.wifirst.com.

As such, WIFIRST takes particular care to comply with personal data protection regulations: especially the amended data protection law no. 78-17 of 6 January 1978 and European Parliament and Council regulation (EU) 2016/679 of 27 April 2016 on the protection of natural persons with regard to the processing of personal data and on the free movement of such data ("GDPR").

"Personal data" means any information relating to an identified or identifiable natural person, an identifiable natural person being one who can be identified, directly or indirectly by an identifier.
2. Nature of Personal Data processed by Wifirst
As part of its activities, WIFIRST may process Personal Data, in order to perform its services or to meet its legal, regulatory or contractual obligations. WIFIRST collects and processes the following Personal Data:
The identification data its customers or users of its services or website provide by completing forms and/or by contacting its services: subscriptions, contact form, recruitment form, technical assistance, etc.;
The identification data that users of its services are invited to provide in order to be able to access it (name, first name, email address);
The identification data from devices, which including without limitation IP address, operating system, MAC address and logs;
The banking and billing details as part of the provision of paid services;
The data shared by users on the community portal made available by WIFIRST and likely to constitute Personal Data;
The connection and navigation data of users and visitors of its website. WIFIRST does not collect browsing history of third-party websites.
3. Purposes of the processing of Personal Data by WIFIRST
The Personal Data collected directly by WIFIRST, as well as Personal Data transmitted by its customers where WIFIRST infrastructures are installed to provide its services, is processed according to the following purposes and legal bases:
| | |
| --- | --- |
| Purpose | Legal bases |
| To manage the contractual relationship with you | Performance of a contract |
| Recruitment | Legitimate interests |
| To process and respond to your requests for information as regards WIFIRST or its services | Performance of a contract and/or legitimate interests |
| To implement the electronic communication services provided by WIFIRST (provision of the service, maintenance, assistance, after-sales and, where applicable, billing and recovery) | Performance of a contract |
| To fulfil the legal obligations such as those regarding accounting, taxes, storage of technical data relating to the performance of its activities as an operator registered with ARCEP with a view to its transmission to the relevant authorities, and exercising your rights over your data, etc. | Legal obligations |
| To conduct data analyses to better understand the needs of WIFIRST service users (statistical studies, satisfaction surveys, audience analyses and measurements, improving and adapting offers and services, etc.) | Legitimate interests and/or Consent |
| To promote Wifirst's services | Legitimate interests and/or Consent |
| To manage and administer Wifirst's services | Legitimate interests |
WIFIRST does not use your Personal Data for advertising purposes, but only to provide with the services you have subscribed, ensure their proper functioning, and meet its contractual and legal obligations.

WIFIRST does not share your Personal Data with any third parties for commercial or advertising exploitation without your prior authorization (opt-in).

In some cases, and with your prior consent, WIFIRST may share your identification data with the company which has graciously offered you access to its services.
4. Data retention of Personal Data processed by WIFIRST
The Personal Data processed by WIFIRST are kept for no longer than is necessary in accordance with the purposes pursued and the legal obligations to which WIFIRST is subject.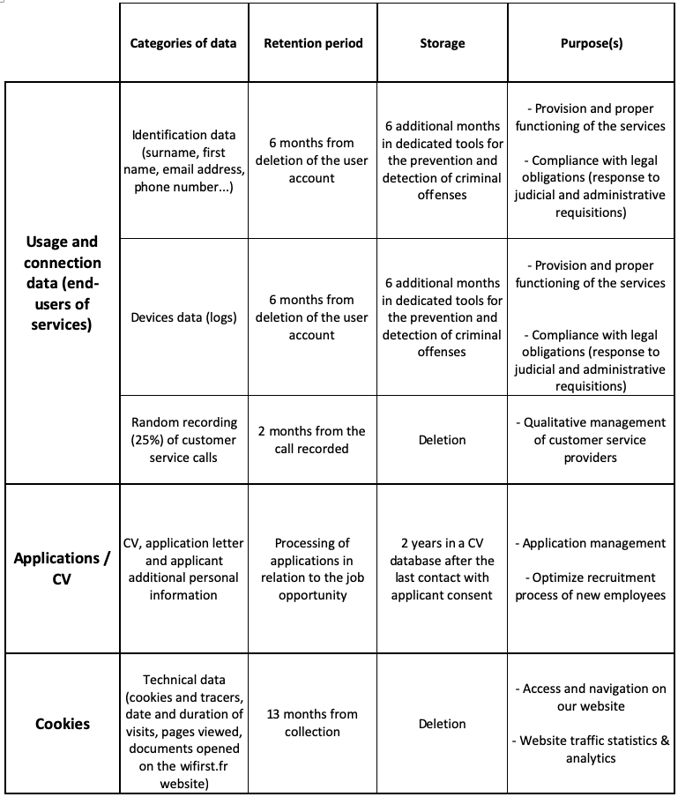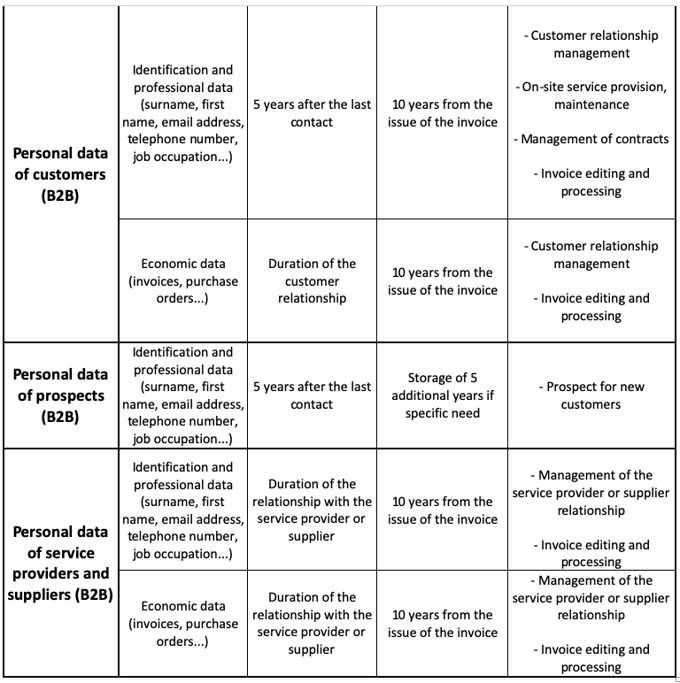 To find out more about data retention periods applicable to your situation, contact our DPO.
5. Recipients of Personal Data processed by WIFIRST
Depending on their respective needs, are recipients of all or part of the Personal Data collected by WIFIRST:
WIFIRST employees on a need-to-know basis to ensure the provision of the subscribed services and commercial and technical assistance service;
WIFIRST technical service providers or other technical operators involved in the routing of electronic communications, for the limited needs of executing WIFIRST services;
Commercial partners where WIFIRST infrastructures are installed;
Third party providers providing services to WIFIRST;
To the extent required by laws and regulations, judicial or administrative authorities.
WIFIRST undertakes that your Personal Data will only be transmitted to partners who are contractually bound to comply with an suitable data protection obligation, as well as to confidentiality and Personal Data protection legislation, within the limits of this Privacy Policy.

If your Personal Data is transferred to a country outside the EEA, WIFIRST will ensure this Personal Data is protected and transferred in compliance with legal requirements.
6. Protection of your Personal Data processed by WIFIRST
WIFIRST takes all appropriate technical and organizational measures to ensure the security of Personal Data and, in particular, to prohibit unauthorized access and/or disclosure of Personal Data. The user's Personal Data are stored in France on secure servers hosted by Equinix and Jaguar companies.
7. Your rights
At any time, you may exercise your rights free of charge (except in a case of manifest abuse):
information and access to your Personal Data;
Right to rectification of your Personal Data;
Right to erasure of some Personal Data;
Right to object processing of your Personal Data and right to restrict processing in some cases;
Right to portability of Personal Data sent to WIFIRST for the sole purpose of the execution of your contract;
Right to withdraw the consent given to process your Personal Data at any time;
Right to determine what happens to your Personal Data after your death.
Please note that WIFIRST may not be able to meet your request in certain cases in order to comply with a legal obligation. You can exercise your rights via the contact details indicated in article 8 below.

In order to allow WIFIRST to respond to your request while preserving the security of your Personal Data, you must provide your surname, first name, email address and, if necessary, at the request of WIFIRST, a copy of your identity document (identity card, passport, residence permit), which will only be kept for the purposes of verifying your identity.

You must also state the e-mail or postal address where you wish to receive a response, as well as any other information required to justify your request if the right you wish to exercise is limited by the regulations in force.
8. Questions and claims
For any question or claim relating to the processing of your Personal Data by WIFIRST or to this Privacy Policy, please contact the Data Protection Officer (DPO):
By phone: +33 (0)1 70 70 46 26
By email : personal-data@wifirst.fr
By mail: WIFIRST - Customer service - Personal data - 26 rue de Berri - 75008 Paris - France
WIFIRST makes every effort to provide a quick and satisfactory solution to questions and claims relating to the protection of your Personal Data.

However, if you are not satisfied with the response you have received, you can contact your local data protection authority. The relevant authority in France is the National Commission for Data Protection (CNIL) located at 3 place de Fontenoy - 75007 Paris (www.cnil.fr).
9. Modification of the Privacy Policy
This Privacy Policy can be modified by WIFIRST at any time.

In the event of a modification of the Privacy Policy, the new version in force will be applicable to the User as soon as posted on the WIFIRST website.
In the event of a dispute between the User and WIFIRST, the Privacy Policy to be taken into account will be that in force at the time of the facts giving rise to the dispute.